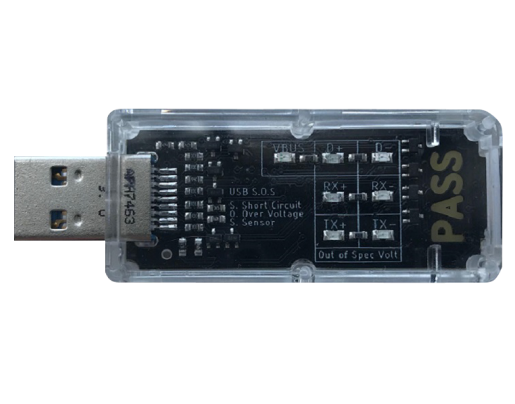 USB S.O.S. (Short circuit - Over voltage - Sensor)
Short Circuit Tester for USB ports.
Quickest and easiest ways to check port voltage and short circuit in USB ports and USB chargers.
Test over voltage or under voltage on VBUS
Check if there is a short circuit between VBUS and any of the data lines
Detect invalid voltage on data lines
Features
Protect your USB devices
Diagnose dangerous faulty ports
Compact design
Protect your expensive USB devices by first plugging in the PassMark USB S.O.S. device to detect bad ports that would otherwise do damage.
The PassMark USB S.O.S. device itself is nearly indestructible for the purposes of testing USB ports with protection of up to +-100V.
The big "PASS" sign is illuminated in green when all voltages are within specification.