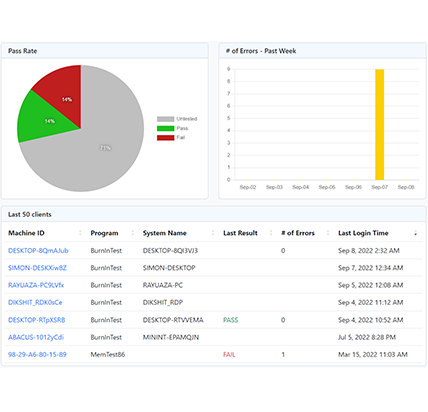 Test Results Database
Version: V2.2.1000
Licensing: On Premise Perpetual or Monthly Cloud Subscription
Latest release date: 10 May 2023
Requirements:
On Premise Perpetual
- BurnInTest Pro/Windows (V8.1.1005 or later)
- BurnInTest Linux (V4.0.1000 or later)
- MemTest86 Pro Site (V7.5 or later)
Monthly Cloud Subscription
- BurnInTest Windows (V10.2.1000 or later)
- MemTest86 Pro (V10.3 or later)
Some features may not be supported with older versions of BurnInTest/MemTest86
Key Features
The PassMark Management Console Web server application allows system information, test status and test result information to be managed centrally for BurnInTest and MemTest86 tests via on premise or cloud hosting. Key features include:
A management level view of your entire BurnInTest system testing.
A management level view of your entire Memtest86 system testing.
Live monitoring of all testing underway
A view of current and past test systems, results and customers.
Centralized test reporting.
Visualized statistical information.
Consolidated historical test records.
Hardware Inventory of all systems tested
Responsive on Desktop and Mobile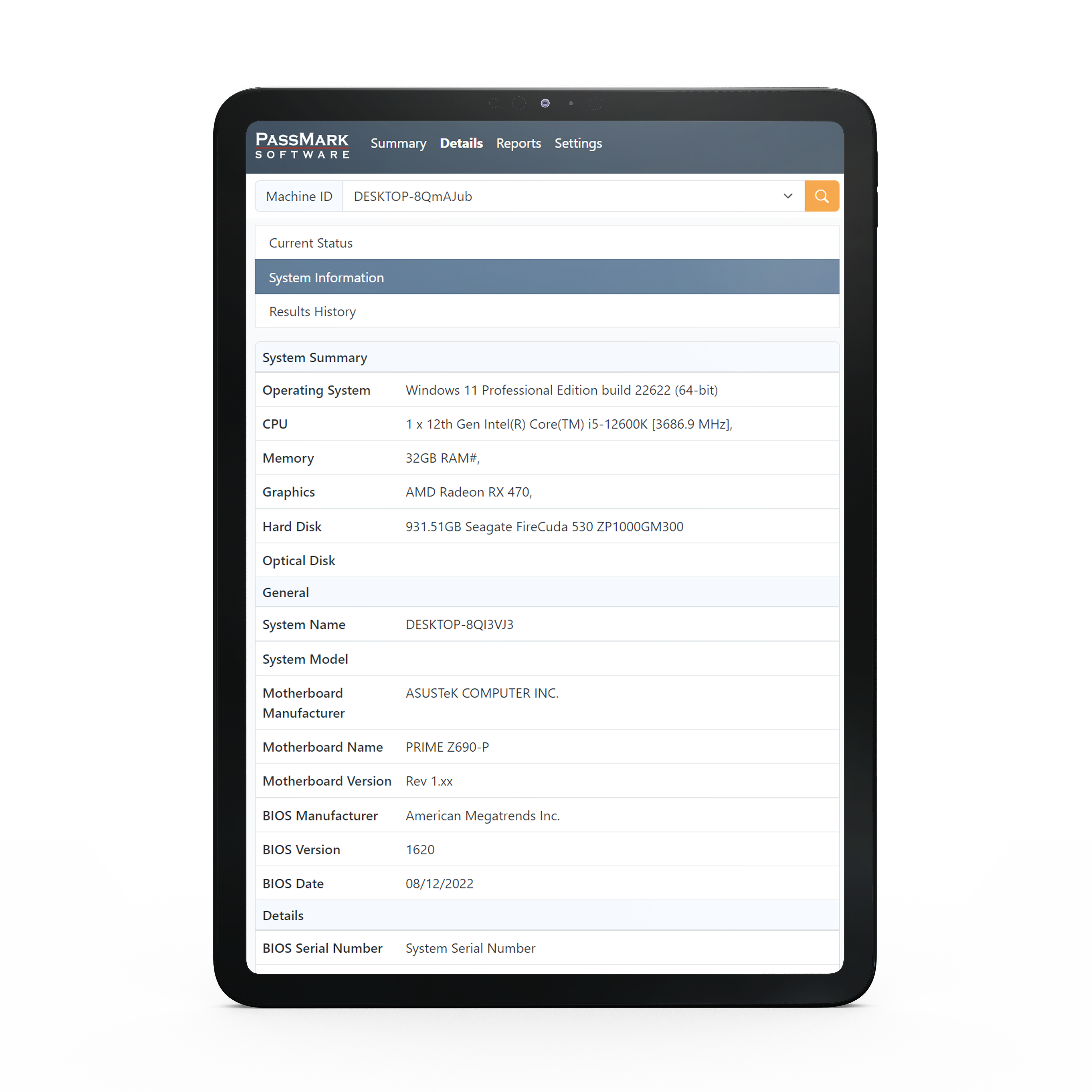 Gather, Analyze and Report on Results
Capture Details: Management Console provides information for a selected test system, including the Current Status, System Information, Last Test Result and a searchable results history and per test run deletion.
Reporting: Provides statistical reports across all tested systems, filtered by date, system, component type or customer. The report types include Errors vs. time, Failures vs. time, Tests performed vs. time and the Pass rate.
Configuration: Allows the auto refresh of the live Management Console status web pages to be set. It also allows systems to be deleted from the Management Console database.

Why use Management Console?
Bulk Testing: Suited to circumstances where bulk testing is required, with a management level view of all systems testing.
System Inventory: Access a complete hardware inventory from all systems tested.
RMA: Documentation of all test results, system information and detailed results with date stamps.
Try it out now!
You can try the Management Console right now by using PassMark's public demonstration.
Just view the demonstration test results that we have performed or use BurnInTest with this demonstration by configuring the server address in BurnInTest Preferences->Management as: https://www.passmark.com/burnintest/management/mgtconsolemsghandler.php
More information
A quick introduction and getting started guide for the Management Console is available: Quick start guide